Depuis le 1er août 1965, Air Glaciers s'est imposée comme une des plus importantes compagnies d'hélicoptères en Suisse. Depuis le premier jour également, Air Glaciers est resté fidèle aux Alouette III d'abord et aux Lama ensuite. Actuellement, il s'agit d'une des flottes les plus importantes de ces types d'hélicoptères en Europe.

Il faut dire que pour le vol en montagne, les Alouette III et les Lama sont difficilement battables. De plus, ces deux hélicoptères partagent un grand nombre de pièces communes ( moteur, transmission et rotors ) ce qui simplifie les stocks de pièces de rechange.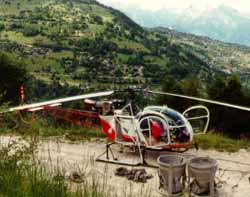 Préparation en vue d'une opération de bétonage en montagne.
The Lama is a real workhorse due to its lifting capability.
Photo Pierre GILLARD.
Quant aux missions effectuées par Air Glaciers, une des plus inédites est l'élingage de bétail en détresse ! En effet, les éleveurs assurent leurs bovins et lorsque ceux-ci se trouvent coincés dans un endroit incongru, appel est fait à l'hélicoptère ce qui les sauve d'un abattage certain.
Bien entendu, les missions classiques comme le ravitaillement de refuges, les chantiers de montagne, le levage, l'épandage agricole, les tournages de films, les vols de plaisance, etc sont effectués par les Lama. Les Alouette III sont en général plutôt en charge des missions de sauvetage et d'aide médicale urgente.
La base principale est située au Valais sur l'aéroport de Sion à partir duquel Air Glaciers opère également une petite flotte d'avions. Mais d'autres plates-formes sont réparties sur une bonne partie du territoire helvétique.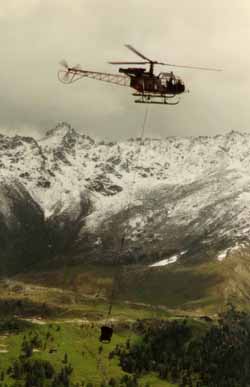 Le Lama et la montagne : ils vont si bien ensemble !
The Lama is the perfect machine for working in mountains.
Photo Pierre GILLARD.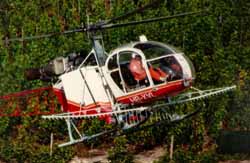 Le Lama "Victor Lima" en opération d'arrosage sur les vignobles de Vértoz dans le Valais.
Lama "Victor Lima" taken during spraying on the vineyards of Vetroz near Sion.
Photo Pierre GILLARD.
Since August 1st, 1965, Air Glaciers asserted itself as one of the most important helicopter companies in Switzerland. Since the beginning too, Air Glaciers has remained loyal to the Alouette III first and then to the Lama. Today, it is one of the most important fleet made of those types in Europe.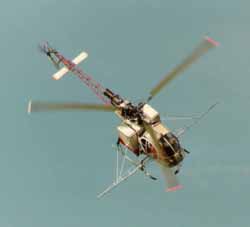 Le Lama est l'hélicoptère idéal pour l'arrosage en montagne.
A Lama is seen with its spraying kit and bars.
Photo Pierre GILLARD.
It is not a lie to say that the Alouette III's and the Lamas are unbeatable in the mountains. More, those two helicopters share a lot of common parts ( engine, transmission and rotors ) and this facilitates the building of a spare parts stock.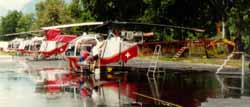 Deux heures à deux personnes seront nécessaires pour nettoyer un Lama après une mission d'arrosage.
Cleaning of a Lama after a spraying mission requires a total of four man hours.
Photo Pierre GILLARD.
One of the most unusual missions accomplished by Air Glaciers' helicopters is the slinging of cattle in distress ! As a matter of fact, farmers subscribes insurance for their bovines and when they are jammed in an uncomfortable place, just a call and the helicopter come to lift them out saving them by the way of a certain slaughter.
Lamas are of course also performing usual missions such as resupply of refuges, mountain works, cargo sling, crop spraying, movies, sight seeing flights, etc. The Alouette III's are mostly used for air rescue and EMS.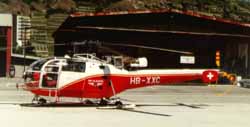 La mission principale des Alouette III est le sauvetage en montagne.
An Alouette III is ready for another mountain rescue.
Photo Pierre GILLARD.
Main operation base is located at Sion, Valais, from where Air Glaciers also operates a small fleet of aeroplanes. But other secondary bases are also used in Switzerland.