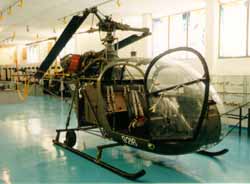 Une des Alouette II cédées à une certaine époque par l'Allemagne est maintenant exposée à Alverca.
9216 is displayed at the Air Force Museum of Alverca near Lisboa.
Photo Pierre GILLARD.
Depuis toujours, le Portugal a été une puissance coloniale importante. Au début des années soixante, de nombreux troubles éclatent dans de nombreux pays d'Afrique. Les colonies portugaises n'échappent pas au mouvement et l'Angola, le Mozambique et la Guinée-Bissau suivent l'exemple donné par le Congo Belge. Pour faire face à toutes les rébellions, l'Armée Portugaise à fort à faire. Au niveau des moyens aériens, les Alouette III se révèlent d'une efficacité extraordinaire en Afrique. Armées de mitrailleuses, voire d'un canon de .50, elles se trouvent dans la plupart des conflits. C'est ainsi que la Force Aérienne Portugaise ( FAP ) devient le meilleur client non-français pour l'Alouette III.
Une fois retiré d'Afrique, le Portugal s'est trouvé avec un surplus d'Alouette III malgré certaines abandonnées sur place. Ces hélicoptères excédentaires ont ainsi été revendus sur le marché civil ou d'état. Un grand nombre d'entre eux ont ainsi continué une carrière sous les couleurs d'Héli-Union ou de la Sécurité Civile en France.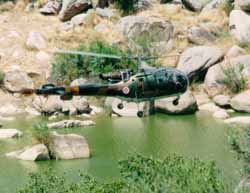 L'Alouette III 19298 remonte lentement le Rio Guadiana.
Alouette III 19298 is flying low into Rio Guadiana.
Photo Pierre GILLARD.
Actuellement, la FAP dispose encore de 17 Alouette III dont trois sont pour le moment en mission ONU au Timor Oriental. Tous ces hélicoptères sont regroupés au sein de l'Escadrille 552 basée à la BA11 de Béja.
Les missions principales de l'Esquadra 552 sont : l'entraînement des pilotes et leur conversion sur hélicoptères, assister les troupes de combat ( éventuellement avec l'installation d'un canon de 20mm en sabord ), effectuer les vols de liaison, assurer la recherche et le sauvetage au départ des détachements de Tancos ou Ovar et, enfin, de gérer les moyens aériens lors de missions de lutte anti-feu.
Portugal has a long colonial history. A lot of agitation ignited in several African countries during the beginning of the sixties. Portuguese colonies did not escape off the movement and Angola, Mozambique and Guinea-Bissau followed the example of Belgian Congo. Portuguese armed forces were then very busy in order to face all of these rebellions. Among the Air Force's inventory, the Alouette III's proved to be very effective in the various conflicts, sometimes equipped with machine guns or even the .50 cannon. That is the reason why the Portuguese Air Force ( FAP ) became the Alouette III's best customer outside France.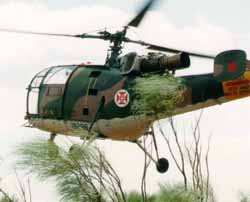 Atterrissage tactique parmi les buissons..
Tactical landing in the bush.
Photo Pierre GILLARD.
When out of Africa, Portugal had a lot of surplus of Alouette III's even if some were left behind. Those helicopters in excess were then sold on civilian or state markets. A lot of them continued their life wearing the colours of Heli-Union or of the Securite Civile in France.
FAP still owns today 17 Alouette III's among which three of them are now on UN duties in East Timor. All of these helicopters are incorporated in the 552 Squadron of BA11 Beja air force base.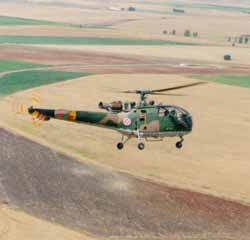 Une Alouette III surprise lors d'un vol d'essai technique dans les environs de Béja.
This Alouette was captured during a technical flight test near its base of Beja.
Photo Pierre GILLARD.
Main missions of Esquadra 552 are : training and conversion of all helicopter pilots, air combat support ( which a possible 20mm gun installation ), liaison flights, SAR from detachments at Tancos or Ovar and support to fire fighting aircraft.