La Marine Belge opère actuellement trois SA-316B Alouette III au départ de la base de Coxyde située à proximité du littoral du Royaume. Une Alouette III est généralement embarquée à bord des navires de commandement et de soutien logistique Godetia ou Zinnia lors de missions à l'étranger. Parmi celles-ci, épinglons le Zaïre, le Golfe Persique et la Somalie.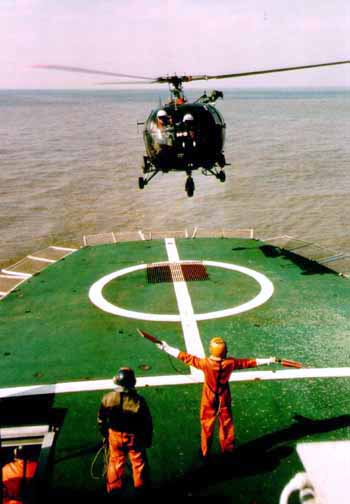 L'Alouette "Papa-Charlie" lors d'un décollage
de la plate-forme arrière du Godetia.
Alouette "M-3" is leaving the deck of
Godetia during
an exercise in the North Sea .
Photo Pierre GILLARD.
Régulièrement, depuis un accord de collaboration passé entre les marines belges et néerlandaise en février 1996, une Alouette III est embarquée à bord d'un navire de la Koninklijke Marine.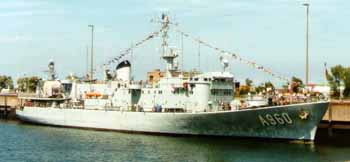 Le navire de commandement et de soutien
logistique Godetia.
Godetia seen at her base of Zeebrugge.
Photo Pierre GILLARD.
Au cours de l'année 2000, une Alouette III a participé à l'exercice "Arabian Gauntlet" à bord du Godetia tandis qu'une autre était déployée à bord du HNIMS De Ruyter pour le voyage "Fairwind 2000" devant emmener l'escadre belgo- néerlandaise à Inchon, en Corée. Au cours du périple effectué, l'Alouette "Papa-Alpha" a participé à des actions de secours au profit de populations sinistrées d'un tremblement de terre à Sumatra en Indonésie.
Le commandement actuel de l'Heliflight de la Marine est assuré par le 1LZ Vl. Walter Van Gool.
| | | | | |
| --- | --- | --- | --- | --- |
| Code : | Call-sign : | Serial number : | Ex : | Delivered : |
| M-1 | OT-ZPA | 1812 | F-ZWBE | 11-03-71 |
| M-2 | OT-ZPB | 1816 | F-ZWBF | 11-03-71 |
| M-3 | OT-ZPC | 1817 | F-ZWBE | 27-04-71 |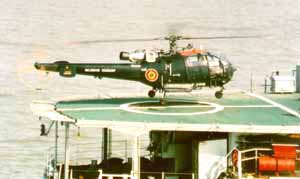 L'Alouette 1816 apponte sur la petite plage arrière
du Godetia en manoeuvre en Mer du Nord.
One of the three Alouettes is landing on the
Godetia. Photo Pierre GILLARD.
Belgian Navy is operating three SA-316B Alouette III's from its base of Koksijde, which is located near the North Sea shore. An Alouette III is usually based on supply ships Godetia and Zinnia when they are on mission abroad. Among them we can list Zaire, Persian Gulf and Somalia.
Since February 1996, which marked the signature of a close collaboration agreement between both Belgian and Dutch navies, an Alouette III is regularly dispatched and based on board of a Koninklijke Marine's ship.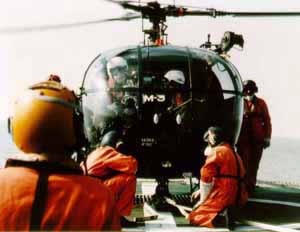 Les opérations à partir de navires exigent un important personnel de pont.
Operations at sea require skilled deck personnel.
Photo Pierre GILLARD.
During the year 2000, an Alouette has taken part to the military exercise "Arabian Gauntlet" and was based on board the Godetia. At the same moment, Alouette "Papa-Alpha" was on board HNIMS De Ruyter that was member of the Belgo-Dutch fleet of "Fairwind 2000" journey to Inchon, Korea. Under way, the Alouette participated to relief missions to the benefit of the victims of an earthquake, which occurred in Sumatra, Indonesia.
1LZ Vl. Walter Van Gool is now at the head of the Marine's Heliflight.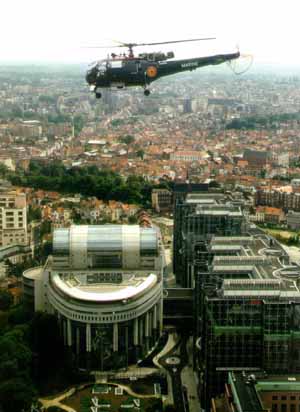 La "Papa-Bravo" vue survolant le Parlement Européen
de Bruxelles surnommé "le Caprice des Dieux" ( ... à cause
de sa forme bien entendu ! ).
"Papa-Bravo" with 1LV Pierre Lejeune and LV Gilles Colmant at the controls is flying over the European Parliament.
Photo Pierre GILLARD.